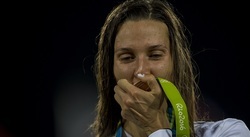 The XXXI Summer Olympic Games in Rio de Janeiro have ended. Polish athletes have won two gold, three silver and six bronze medals. The magic limit of ten medals has been exceeded - our team members have won eleven medals for Poland! The main sporting event of the last four years has been a time of joy and pride for our athletes' achievements.
Nothing unites people as strongly as the success of their country's athletes, and for us, nothing is as moving as the competing athletes wearing the white eagle on their chests. Our athletes' success is a strong foundation for building our sense of community, and an excellent lesson in patriotism – said Minister of Sport and Tourism Witold Bańka who supported our national Olympic team.
Medals in cycling at the beginning and at the end of the Games
On the first day of the Olympics, Rafał Majka won a bronze medal in the men's cycling road race. Majka achieved an excellent result in a dramatic and gruelling event. I am now happy that my career develops well – he said immediately after the race, in an interview for Polish Television. His medal was not Poland's last one in cycling. On the penultimate day of the Games, Maja Włoszczowska won silver in the women's cross-country mountain bike race. The medal I won today is a result of long years of work and commitment of many wonderful people – she told reporters, wearing the silver medal around her neck. Włoszczowska dedicated her success to her former coach Marek Galiński who died in an accident in 2014.
Two more medals and a world record
For the more than 240 members of the Polish team, the Olympic Games were a period of hard work but also of strong emotions. Anita Włodarczyk, Poland's Olympic gold medallist and world record holder in hammer throw, did not hide her tears during the medal award ceremony. She is the first Polish track and field athlete to win a gold Olympic medal in the last 16 years. In 2000 in Sydney, her late friend Kamila Skolimowska won Olympic gold in hammer throw. Anita Włodarczyk holds memories of her tragically deceased friend, and on a social networking site she wrote: After 16 years, Poland is on the top again:) Kamila, we've done it! Thank you! Włodarczyk won her gold medal wearing Skolimowska's glove which she considers it a good luck charm and reminder of her friend. In the men's hammer throw, 27-year-old Wojciech Nowicki threw 77.73 metres on his last attempt which gave him a bronze medal in the Rio Olympics. After the event, the athlete did not hide his disappointment: I am disappointed. I was feeling well, I was well prepared, and I know that I should have fought for more, event for gold – he said in an interview for Polish Television. The gold medal was won by Dilshod Nazarov from Tajikistan who threw 78.68 metres, and the silver one went to Ivan Tsikhan from Belarus who threw 77.79 metres. Nowicki's distance was only 6 cm shorter than that of the silver medallist.
Poland's silver medal to help cover the cost of little Olek's medical treatment
Piotr Małachowski, a Polish discus thrower and Rio 2016 silver medallist auctioned off his Olympic medal to raise funds for a charitable purpose. The athlete joined the action OcalićOkoOlka [Save Olek's eye]. The raised funds will be used to pay for eye cancer surgery for a little boy Olek. In Rio, I fought for gold. Today I'm calling on everyone to fight for something even more precious, the health of this wonderful boy – he wrote on his Facebook profile. Małachowski, who is in the military, has proven once again that he has a big heart and is always ready to fight, not only for sporting achievements, but also for the health of those who are ill.
Power is a woman
This was proven by Magdalena Fularczyk-Kozłowska and Natalia Madaj. The Polish rowers won a gold medal in the 2000 m double sculls final. While listening to the national anthem during the award ceremony, they did not hide their emotions. Another Polish female rowing team: Monika Ciaciuch, Agnieszka Kobus, Maria Springwald and Joanna Leszczyńska won a bronze medal in the women's quadruple sculls competition. After crossing the finish line, we could not believe we did it. We worked really hard to win this medal. It required endless sacrifices and hundreds of litters of sweat, but it was worth it – said happily Joanna Leszczyńska just after the race, talking to a reporter from Onet.
Among the Rio 2016 female medal winners were also the Polish canoeists. Marta Walczykiewicz won silver in the kayak single 200m sprint. Beata Mikołajczyk and Karolina Naja took bronze in an excellent race in the kayak double 500m final event. This was a special day for the Polish canoeing.
Bronze for Poland in wrestling
Thanks to her hard work and numerous sacrifices, Polish wrestler Monika Michalik won a bronze medal in the women's freestyle 63 kg, winning 6:3 over Inna Trazhukova of Russia. I've been waiting for this medal for a really long time. Now I have it. I am very happy - said our athlete immediately after receiving the bronze medal in an interview for Polish Television.
The biggest surprise
Poland's 25-year-old Oktawia Nowacka won a bronze medal in the women's modern pentathlon. It was a great surprise both for the fans and for the athlete herself. Due to an injury, the period just before the Olympics was particularly difficult for her. This medal means a lot to me. It is a dream come true - she said after the award ceremony, not hiding her emotions in an interview for Polish Television. The Rio 2016 Olympics were the Nowacka's first Olympic Games. She is the first woman to have won an Olympic medal in the modern pentathlon for Poland.
Although the XXXI Summer Olympic Games have already ended, ahead of us are other sports competitions in which we will support Polish athletes. Starting from 7 September 2016, the XV Summer Paralympic Games will be held. We keep our fingers crossed for all those taking part in this major event, and we wish them true success.