The condition of Polish sport in 2016: 170 days to the Olympic Games in Rio" - a debate with the Minister of Sport and Tourism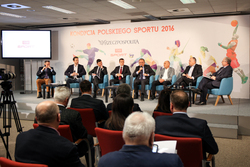 On Thursday, 18 February 2016 at the head office of "Rzeczpospolita" newspaper a debate on the condition of Polish sport was held. Among the participants were: Witold Bańka, Minister of Sport and Tourism, Andrzej Kraśnicki, President of the Polish Olympic Committee, Adam Krzesiński, Secretary General of the Polish Olympic Committee, presidents of Polish sports associations, coaches and representatives of companies that sponsor Polish sport. 
The discussion focused, among others, on the Polish team's chances in UEFA EURO 2016 and on the upcoming Olympic Games in Rio de Janeiro, with particular emphasis on the Polish athletes' chances for Olympic medals.  
Minister Witold Bańka spoke about the smooth cooperation between the Ministry and the Polish Olympic Committee in the preparations of the Polish national team for the Olympic Games in Rio. He emphasized that the amounts recently allocated to the national teams' Olympic preparations: 98 million zł in summer and individual sports, and 19.6 million zł in team sports, were the highest in the last seven years.
During the debate Minister Bańka reminded that individual Polish sports associations should submit their comprehensive sport development programmes. As regards children and youth sport, he stressed the need to provide long-term support to strategic sports. 
Another issue raised in the debate was the role of training facilities in athletes' preparations for major sporting events. Particular attention was paid to the work of the National Sports Training Centres as key training facilities .
The meeting was organized by "Rzeczpospolita" daily and TVP Sport.