Poland has signed the Council of Europe Convention on safety and security of sports events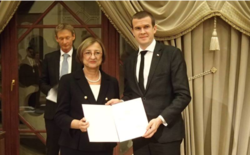 Ultimately, it is intended that the Convention will replace the European Convention on Spectator Violence and Misbehaviour at Sports Events and in particular at Football Matches, drawn up in Strasbourg in 1985 and ratified by Poland in 1995. Over the years, the latter convention became, in a large part, outdated and incompatible with the current European experiences and good practices.
The new Council of Europe Convention on an Integrated Safety, Security and Service Approach at Football Matches and Other Sports Event introduces, among others, the following modifications:
the concept of integrated safety management, instead of separating the roles of individual entities responsible for safety at sports events,
moving away from the perception of incidents at sports stadiums as a manifestation of broader socio-economic problems, towards the approach to violence as a spontaneous reaction to on-going events,
emphasizing the significance of appropriate service provision to spectators as a factor which prevents aggression,
placing emphasis on risk assessment measures and preventive measures rather than direct intervention measures in stadiums, which may lead to the escalation of violence,
underlining the importance of the participation of appropriately trained stewards in sports events,
emphasizing the important role of dialogue and cooperation with sports fans,
highlighting the role of sport in promoting the Council of Europe's fundamental values such as social cohesion, tolerance and the fight against discrimination.
When signing the Convention, the Polish delegation formulated a reservation to its content, which means that our country will not be bound by the provisions of Article 5(2) of the Convention, relating to the system of sports facility certification (licensing). The Convention's entry into force in relation to Poland will require its ratification pursuant to the prior consent expressed in the form of an Act of the Parliament.