High-level meeting of Tourism Ministers and Presidents of the National Tourist Organizations of the Visegrad Group countries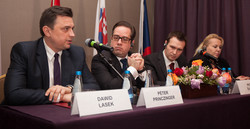 The meeting, chaired by Dawid Lasek, Undersecretary of State at the Ministry of Sport and Tourism of the Republic of Poland was attended by representatives of the Ministry of Sport and Tourism of the Republic of Poland, the Ministry of Regional Development of the Czech Republic, the Ministry of Transport and Construction of the Slovak Republic, the Hungarian Tourism Agency, the Czech Tourism Administration - CzechTourism and the Polish Tourist Organisation.
During the meeting, the representatives of the participating countries exchanged information on the state of, and events in, the tourism sector and presented their opinions on key issues such as the development of tourism in the Visegrad Group countries, the impact of the "sharing economy" on tourism and the implementation of Directive (EU) 2015/2302. The first day of the V4 countries high-level meeting on tourism ended with the signing, by representatives of the national tourism organizations and other relevant entities, of the joint Marketing Plan for 2017. The cost of activities planned to be implemented this year is expected to amount to 315 000 euro. The accumulation of funds will be of benefit to all countries of the Visegrad Group.
In 2017, the largest amount i.e. 122 000 euro will be spent on promotion activities in the USA; over 30% of the amount will be allocated by Hungary. The costs of promotion in Russia have been estimated at 76 000 euro. The marketing plan covers also India, Latin America, Belarus, Kazakhstan, South Korea and China.
The main areas of joint activities will include:
cooperation in the field of promotion: joint participation in tourism exhibitions (e.g. through presenting joint stands), as well as numerous presentations and study tours for representatives of foreign travel agents, tour-operators and journalists,
supporting cooperation in the field of cross-border tourism, in particular developed by regional tourism organizations,
development of joint projects aimed at increasing tourism flows from third countries,
development of joint tourism products to be promoted in third countries (e.g. stays in historic cities, spas, rural tourism, etc.)
updating the web portal www.discover-ce.eu,
development of promotional materials,
joint marketing research.