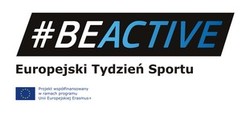 The Gala Event closing the European Week of Sport took place on 30 September, 2016, on PGE National Stadium. Among the participants were Witold Bańka, Minister of Sport and Tourism, representatives of organizations which actively participated in the European Week of Sport events in Poland, and winners of the PhotoActivity competition. The invitations were also accepted by Maciej Lepiato, Paralympic high jump champion and Paralympic high jump record holder, Justyna Kozdryk, Rio De Janeiro's fourth weightlifter, and Artur Siódmiak, former handball player. Today, on PGE National Stadium, the outstanding athletes shared what is most important for them: their passion and success stories.
Sitting on a coach doesn't make sense. Activity makes us smile and makes it possible to enjoy the sun and the nature. Sport has shown me that I'm not weak. – Justyna Kozdryk.
I was to be a dentist, but when I went to my first training session, I felt that this is exactly what I wanted to do. Today, sport is my whole life – said Maciej Lepiato.
Sport develops the body, improves fitness and performance. It also helps burn calories, preventing 21 century civilisation illnesses such as obesity or overweightness. On the other hand, sport, and competition in particular, helps get rid of bad emotions, makes it possible to relieve the stress accumulated, teaches how to deal with failures and victories, and these are skills which are very useful in life – said Artur Siódmiak
Among the ambassadors of the European Week of Sport were also: Marcin Gortat, Oktawia Nowacka, Zofia Noceti-Klepacka, Jerzy Janowicz, Marta Domachowska, Czesław Lang and Zbigniew Bródka.
The European Week of Sport was held from 10 to 17 September. The Ministry of Sport and Tourism was the Coordinator of the events in Poland. The initiative was co-financed by the European Commission. The objective of the project was to engage, make aware and inspire European citizens to take up physical activity in their everyday lives. 2 million people participated in events taking place throughout Europe from 10 to 17 September.
Sport cultivates important skills, shapes attitudes and integrates people, as best proved by the European Week of Sport, under which  877 events were organized throughout Poland. Almost  150 thousand people participated in those events. Hundreds of municipalities, hundreds of schools and dozens of kindergartens were involved. The European Week of Sport has shown that Poles can be active. I hope that this BeActive week will not be a one-off event, that we will continue to work on spending our free time doing sport. Some projects we are currently  implementing at the Ministry of Sport and Tourism are to help achieve that objective. Through the KLUB programme, we provide support to small and medium sized clubs. Thanks to those funds, they are able to pay the coaches' salaries or organize sports camps. There is huge interest in the KLUB programme, and even more funds will be earmarked for the programme next year. Moreover, we will soon reinstate School Sports Clubs. This will help us support children and youth of all ages. The two projects will provide grounds for changes of fundamental importance for Poland – concluded Witold Bańka, Minister of Sport and Tourism during the Gala.
The European Week of Sport was accompanied by a photographic competition called PhotoActivity. During the ceremony, the winners of the competition received prizes and the winning photos were shown. The list of the winners is available at the website etspolska.pl.
#BeActive is a slogan of the European Week of Sport. The objective of the project is to change the worrying statistics concerning the physical activity of Poland's inhabitants. In 2015, the percentage of Poles aged between 15 and 69 years meeting the WHO criteria on free-time physical activity was 15.5%. The results also show that almost half of Poles (48%) aged above 15, declared they had not been for a walk in the week before survey – neither for recreation nor as a way to get to some destination (work, shopping, etc.). The lack of activity results in adverse health effects, increases the risk of heart diseases, diabetes and cancer, and contributes to overweightness and obesity.